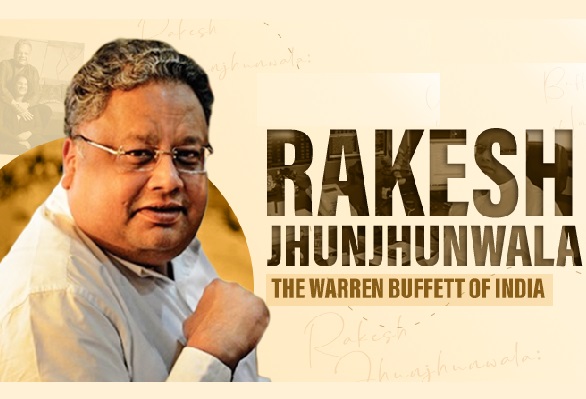 Rakesh Jhunjhunwala, India's Ace Stock Market Investor, Self-made trader and businessman, also known as the "Big Bull" of Dalal Street, was born on July 5th, 1960. He studied CA at the Institute of Chartered Accountants of India and went headlong into Dalal Street where he invested his first capital of Rs 5,000, which inflated to Rs 11,000 Cr. One can learn not much but a few very important life lessons from Jhunjhunwala's life story.
Listed below are 5 Key Lessons Every Fresher must Learn From Rakesh Jhunjhunwala:
1. Consistency:
The process of learning is a journey and not a destination. One has to keep learning without quitting. Jhunjhunwala believed that in order to learn markets, one had to respect and treat it well.
From his experience from all these years, he has learned a lot from the markets, and there is yet more to learn. He honestly put forward an analogy of his mother's daal. He mentioned that even after multiple lessons from his mother, his cook never made the same daal as his mother's and he would have to keep learning it, which is a process in itself. 
2. Optimistic
The critical part of investing in markets is to always think positively. Thinking positively helps a person to make optimistic decisions and will not feel pessimistic or jittery whenever markets become volatile. Jhunjhunwala always believed in India's growth story and his capabilities and asked people to do the same. This will give one a strong conviction and will help one to make the right decisions regarding investments.
ALSO READ: 9 Key Tips to remember While Preparing for Online Job Interview
3. Opportunistic
Value investing is one of the principles that Jhunjhunwala followed, which involves picking stocks that appear to be trading for less than their book value. He says that one should be opportunistic and thoroughly do their homework to identify the right stocks to buy and make investments when the stock is not popular in the sense that it is overlooked by the market. This method will allow a person to get the stock at a very attractive valuation and make money when the share price goes up.

4. Risk-Taking
We are so impatient that we expect results as soon as we invest. Rakesh was a risk taker with a long-term vision. For him, the long term meant 5, 10, or 15 years. He would invest and wait for the company to show results.
ALSO READ: 
5. Control Your Emotions
An important aspect of making money from the market is having a strong grip on emotions. One should be calculative and logical while making every investment and not get worried whenever the market moves adversely.
Lastly, Rakesh Jhunjhunwala gave much advice on investments, but one piece of advice that took the limelight was, "My worst investment has been my health" (refer to the pic above) and he encouraged everybody to invest the most in that. Do keep these 5 Key Lessons Every Fresher must Learn From Rakesh Jhunjhunwala in your mind and get going in your career.
All the very best!
Also Read:
QUICK LINKS
Freshers Jobs     Internships JobsFree Courses  Challenges
Show JUMPWHERE some love
 Follow Us On Instagram Like Our Facebook Page  Subscribe to Our YouTube ChannelFollow Us on LinkedIn  
Become a Part of Our Whatsapp Family: