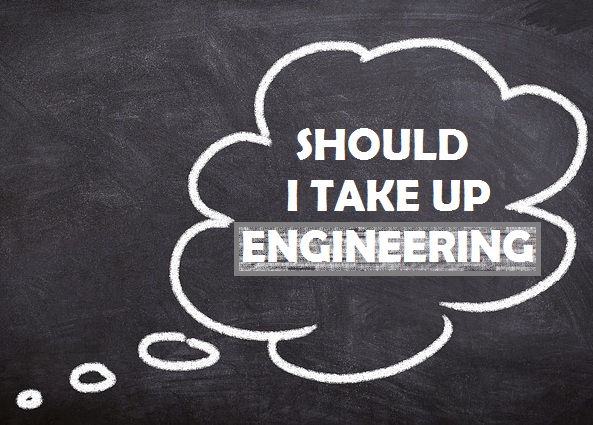 Most of the students who have taken up Science in their +2 or 2nd PUC are confused thinking if they should take up Engineering or something else. In India alone, every year, more than 15 lakh students graduate as engineers. Over the years, there has been a rapid increase in the number of government and private colleges offering a plethora of courses.
 In today's era, Engineers are the new wizards. Everyone wants wizards to fix their problems, and nobody knows how they come up with an opt solution. Could it be family pressure, thick salaries or mere passion to choose engineering is a debatable topic but here are few things that every student and parents must know before taking up Engineering?
All are excited about Engineering but did you ever think Why people actually end up taking engineering?
Engineers are Great in Demand:

A lot of students are fascinated by seeing the technology impact in the society, may it be a robot or fighter jet plane or an awesome app in their smartphone. With this, they have an amazing impact in their mind which makes them swing towards pursuing Engineering.

I did not clear Medical cut-off! I will take up engineering?:

Another valid but unfortunate reason for people taking up engineering is either because they do not want to get into medicine or they did not get a merit seat in medical entrance exams. However, they do not have any personal interest as such.

Are you forced to take up Engineering due to Family and Financial Pressure? In India, it is not a surprise if your parents or relatives decide what career you must choose. Either due to social pressure or due to relative's kids studying engineering or some distant "Sharmaji ka ladka" is an engineer, even their kids are forced to prepare for entrance exams and take up engineering! At times, if you want to take up Commerce or Arts, you are literally disowned in the family. Very few educated parents, let their child decide what he or she wants to take up. Another reason is, parents want to boast about their kids being Engineer to the world. If you are one among such parents, kindly guide or educate yourself and your kids about various education and career opportunities. Then, let your kids decide what he or she wants to do!
Social Status:

Engineering is indeed a respectable and noble profession but not just at a cost of social status alone. If you are passionate about it and you enjoy engineering, you would automatically earn everything. The parents feel proud having their kids as an engineer as well. However, if you are not interested, do not take up engineering just for status purpose or your family is expecting you to do so.

Change the world attitude:

Engineers contribute positively in one or other way to improve the livelihood and it's a great feeling to be a problem solver. May it be a bridge, an app or a machine, you will see every Engineer being proud of their contribution.
ALSO READ: 10 awesome insights about Procrastination
What are the Benefits of doing Engineering!
Great Rewards And Opportunities: Rewards could be in terms of adequate knowledge of what you get over a course of engineering or it could be in terms of salaries. Engineering is one of the highest paid professions in the world. However, one must remember: "WITH GREAT POWER COMES GREAT RESPONSIBILITY".
Studying engineering brings prestige: Studying Engineering is definitely not easy. It takes a lot of sweat, hard work, dedication and sacrifices to qualify to be an Engineer. There is always a wow factor when Non-engineers get to know that you are an engineer. Hence, the element of respect and prestige comes naturally.
Ready for any problem: If a true engineer comes across any problem, he wouldn't let it go without trying to solve the problem. The engineering curriculum will teach you the respective subjects but the time spent during engineering and the problems encountered would have made you acquired the skills and the confidence to deal with any kind of problem. If not the exact solution, you would have the logical reasoning and approach to the solution in the right manner. An engineer sees challenge and opportunity in every problem.
Can I Work from anywhere in the world?: Engineers are needed everywhere and with engineering skills and knowledge, one can work anywhere at any time irrespective of the geography. However, we must be skilled enough to do so.
Engineering is fun they say but did you know, what are the various risks and challenges involved in Engineering:
If you're not good at maths or logic, engineering is not for you:

Engineering is all about logic's and math which act as a backbone of Engineering. May it be differential calculus, graphs or complex algorithm. Numbers are very much essential for an engineering degree. If you think you can learn math on the go, then you would still survive your engineering course, however, it would be more complex when you pass out.

Hard work is not limited to Cracking entrance and confirming a seat: Preparing for entrance exam such as NEET, State-CET etc is mind-boggling and competitive. However, that's just the beginning of hard work. Internals, Externals, Projects, Labs, Viva, Assignments, Presentations etc would need much more efforts. It is not important to score marks to have an amazing career, but good companies come up with cut off marks such as 70-80% to appear for their companies interviews. Hence, it is always safe to have a good academic score as well.
Get out of your comfort zone to learn better: A lot of students who pursue engineering, prefer to stay in a hostel. This is to remain more focused on education. This will also help you to deal with many real-life problems which you will never face while at home.
Am from the middle class? Will my family afford? : Let's be frank enough; the cost involved in Engineering degree is skyrocketing and it is very difficult for a poor person to opt for an engineering course in spite of scoring decent marks. Of Course, engineering teaches you to handle pressure as well but sometimes due to the peer pressure or emotional blackmails, the students get succumbed to this. Be prepared for this one but have patience and pursue your studies! One day it will all pay off! Also, there are loads and loads of scholarships available by both government and private organisations. Utilize them.
---
Must Read for Parents:
---
Assumptions and Misconceptions people have when they take up engineering:
You are excited to do engineering but have you done your HOMEWORK?: Teenagers have very less idea about what a course exactly has to offer. 30-40 percentage of today's engineer has no idea why they took engineering and are doing work which has nothing to do with engineering. For example:

If you want to become a pilot doesn't mean you need to do aeronautical engineering.
If you want to build a sports car doesn't mean you need to do automobile engineering etc.
if you want to be a hacker, doesn't mean you must learn computer science engineering.
Few also assume that if you take up IT, it means coding only. Check out Career options if you take computer related branched but do not like coding

Firstly, clearly understand what courses are available; what are the various subjects and chapters available and then decide if that interests you to learn. It's your career and not food in a restaurant or a short vacation to a nearby city. Spare some time, consult with well-wishers, take up career counselling sessions, learn about the course offerings and then enrol yourself. It's better to suffer now than regret forever by doing some boring job.

Only a few Branches have a scope. Which Branch should I take? 

Majority of the people around you come across either software engineer, civil engineer and mechanical engineer and hence carry a mindset that, only mechanical, civil and circuit branches have good scope. But this is not true. Opportunities are available is all the streams provided you have the right skills in the respective fields.

Can you do anything else in spite of taking up engineering? An engineering degree can be termed as the jack of all and then it is up to you; either remain the same or become master of few. However, if you hold one engineering degree doesn't mean you need to stick to that. The best part about engineering is that an Engineering graduate can work in any field he or she likes irrespective of their field of study! An engineering degree doesn't just teach you how to be a great engineer, but rather a great manager, businessman, and entrepreneur. There is a saying, "In India, People take up engineering first and then figure out what to do with their life".
Engineers receive appealing packages just after they graduate: Yes this is true if you pass out from IIT or NIT's but even those college do not guarantee attractive packages or 100% placements. When it comes to job openings In Bangalore, a fresher's average salary comes to around 3-4 lakhs per annum for Mass recruitment companies such as Infosys, HPE, Mindtree, TCS etc. However, if you are really good, do something amazingly cool and innovative, you definitely stand a chance to gain better packages. Also, depending on the college, the kind of companies that come from placements varies. Hence, do not forget to inquire about campus placements and recruitment before admissions. Here are Top Ten kick-ass ways to improve skills during Long Leave.
Engineering first, MBA Next: Let's be honest, for many of us, this is either a dream and few even succeed in pursuing the same. One should plan really well on what are you looking to achieve in the long run and why exactly would you want to pursue technical studies and then get into management right away. If you can combine technical expertise with adaptable management abilities and a global perspective, there's no limit to where an engineering degree can take you but I would rather suggest to work for few years after Engineering and then based on your career growth pursue post graduation program.
Whatever you learn can directly be applied in Industries: Not all teachers are good and give exact knowledge of what is required in the companies. Few exceptional cases are definitely there but many just try to complete their portions. Theoretical knowledge is good but is not going to help you reach greater heights. One must have an interest in the subject and be passionate about applying the theory learnt into various projects.
ALSO Read: Free Online technical training by IIT and IISc for in-depth knowledge
Confused on which Engineering Colleges in India to choose?
India has one of the largest numbers of engineering colleges in the country which can be classified in various ways either based on the type of education, state level, national level or even private autonomous colleges. This is not like school, where you check which is near or which is cheaper etc. Choose a college based on their all India ranking, by their campus and infrastructures, by their lecturers and extracurricular activities, by their placements, by their alumni support etc. We would suggest you look at the colleges based on the below orders:
IIT's

NIT's

Top Country Colleges such as BITS PILANI, MIT, ANNA University etc.

Top State Colleges (Autonomous/University/Affiliated)

2-Tier Engineering Colleges

3-Tier Engineering Colleges

To conclude, an engineering degree gives you not just theoretical knowledge but also build your many analytical skills, logical skills and improvise your problem-solving techniques which can be applied in a wide range of industries and at various entry levels in an organisation.
Is Engineering really worth it? A lot of my friends struggle to get a job! There is nothing like being an Engineer in this technology advanced era but engineering is not just an educational degree that you can pursue like others. It involves a lot of efforts and if you are not interested in investing your sweat and blood it will not be easy for you to get over it. As a wise man once told, "It is easy to survive 4 years of engineering by forcing yourself, but what about the next 40 years". Hence, choose your career wisely and you will enjoy every bit of it.
We understand there is a lot of competition in the world and the students are usually confused about taking up a career. We are here to guide you. Feel free to comment for any clarifications, admissions or any other pointers about any course or college.
---
---
Also, read: