A lot of time people are running ahead of time when it comes to their career and jobs. Especially working women, the majority of whom loves to makeup or groom themselves up. When it comes to dressing, fashion, and makeup, they need to balance the time between work and grooming themselves. Needless to say, normal 9 to 5 job also needs your best presentation in terms of your dressing, makeup, and hair to look professional throughout the day and of course, you wouldn't be surprised to see a lot of apps in their phones related to makeup ideas and makeup tutorials.
Your makeup is directly or indirectly one of the essential reason for your productivity at the office. If you are dressed up well, you will feel confidence at your work; same goes with makeup for few. At times, you find people always thinking whether their dress or makeup is fine or not or if they did too much of makeup etc. With proper makeup, you will not waste any of your time at the office and hence, will be able to be more productive than converting your restroom to a beauty parlor everytime.
We have categorized makeup ideas and makeup tutorials into 3 sections based on the time you can invest on makeup everyday basis (5 minutes, 10 minutes or 15 minutes).
The 5 minutes makeup ideas and makeup tutorials:
Every 5-minute look should contain roughly three things that make the most improvement to your appearance. For most people, those things are following:
a light coverage foundation such as BB/CC cream or tinted moisturizer
mascara
brow gel or pencil.
Steps to follow:
Start by using a Beauty Blender or another off-brand beauty sponge like it, and apply your foundation by lightly buffing it into the skin.
Use a CC Cream or a tinted moisturizer instead of a full coverage foundation.
CC Cream is really great for neutralizing, lightly fill in your brows with a brow pencil. It's important not to spend too much time here because the goal is to be done with your whole face in roughly five minutes.
If you have thin or spotty brows, don't worry, we have all been there! You may want to add some pencil strokes in the thinning spaces too, but again don't spend too much time here.
Finally, curl your lashes and apply a couple of quick coats of mascara.
It is very important that your lips are hydrated, so ALWAYS wear chapstick even when your face is naked.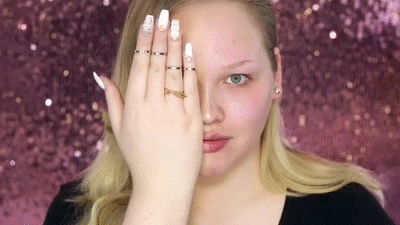 The 10 minutes makeup ideas and makeup tutorials:
This 10 minutes look is worn most often because it's what is worn Monday-Friday to the office/job.
Steps to follow:
It starts the exact same way that the five-minute face starts.
Once you complete those steps, add concealer on dark under eye circles and on any spots on the face (adult acne is real, people) because concealer is a very creamy and concentrated product, always set it with a bit of translucent powder to prevent creasing. This is important when dealing with super creamy products.
Next, add some blush on the apples of your cheeks. Use powder blush most often because it is the easiest to work with cream and liquid blushes are also options, but those require a fair amount of blending which isn't ideal for you when you are in a hurry.
After that, contour and highlight your face.
Right now, cream contour products are in, but powder contours are more user-friendly. The benefit of a cream contour is how well it blends into the skin- it kind of melts into it rather than sitting on top of it. Cream contours require a bit of practice before you get the hang of using them. So, if you prefer using cream instead of powder, practice lots so you can get the hang of it before making it a part of your daily routine.
Usually, Contour should be applied anywhere we want to hollow out or narrow the face. Especially, under your cheekbones, up and around your temples, and along your jawline.
There are more areas on the face that can be contoured, but this is all that's done for this 10-minute look.
Don't want to make yourself look "too" done up there because this is still a very natural look.
Add highlighter just on the tops of cheeks. A liquid highlighter is nice because you can apply with your finger and is more intense than a powder highlighter.
If you want more of a subtle highlight, then use a powder product with a fan brush.
When it comes to highlighter, subtlety is for the birds, but not everyone is a fan of highlighter. If you're not, then skip this step.
Finish by adding a tinted lip balm that has a high amount of gloss to it, and a touch of color.
Lip balms are everyone's best friends, they go with us EVERYWHERE. Please invest in one! Your lips will thank you.
The 15 minutes makeup ideas and makeup tutorials:
Steps to follow:
For this look, use a foundation instead of a CC Cream or tinted moisturizer.
Your skin may not need a foundation but more often foundation provides WAY more coverage than the CC creams.
You can even apply primer before going for foundation if time permits.
Please choose the nearest and the best foundation for your skin or It will clog your pores and cause breakouts. Be fair to your skin when choosing a foundation.
You wouldn't wear a sweater in the summertime, so why wear a full coverage foundation when you don't have a need for it? use a brush to apply the foundation rather than a blending sponge here, because a brush provides a bit more coverage. You can use them when going for a more "made-up" look.
In addition to the steps you took in the previous looks, add a neutral colored cream shadow to your lids.
Cream shadows are great because you can apply them with your finger. That isn't always ideal, especially when doing more complex eye looks, but when you want a simple wash of color, they're perfect.
You can use a matte one or a shimmery one, whichever you prefer.
The world is your oyster!

(you really need to understand why that phrase exists).
Next, add some contour and highlight to your eyes with the same shades used on your face. Apply the contour shade in a windshield wiper motion across the crease of your eye, and apply the highlight directly underneath your eyebrows. This makes the eyes pop a bit more without taking a whole bunch of time.
Finish by adding a neutral colored lipstick. Also, you can base the lipstick with a pat of a compact.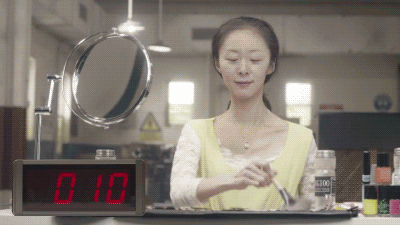 Conclusion about makeup tutorials and makeup ideas:
A very neutral and subtle look always compliments your personality especially when it's hot and humid and you really want to look all made up every day at your work. A setting spray is a must for that heavenly hold of your products on your skin for the rest of your day.
These are some of the helpful and quick makeup ideas and makeup tutorials for professionals who do not have time to make that cake all over the face. Initially, you might face it difficult to finish off the makeup activity within the time but with practice, you surely will. Dont forget to share your secret mantra for quick makeup and if you have any queries/clarifications feel free to comment below.
Also, read: