In this era of rat-race, where either the parents or kids are in their own world or both mom and dad are working and have no time to understand or spend with their kids; it's likely that your child speaks more to the smart phones or laptops than you.
You feel you love your kid well when you gift a smartphone at an age of 14-15 but don't have time for them or to understand them. With gadgets, bikes and other expensive gizmos what you don't realize is that you not only introduce them to a whole new world which includes both good as well as bad but it also includes the games like 'the blue whale challenge' as well.
What is Blue Whale Challenge game?
The Blue Whale challenge is called as a game however it is more than just a game. In this game:
Normally, the game extends over 50 days.
This game is played between a player and an admin.
The players are given 50 tasks/challenges by the admin and clearing one challenge leads to the next. (E.g. of tasks: Climb a crane, wake up at 4:20 AM and walk on the road, Self-mutilation etc).
After every challenge is cleared, they need to provide a photographic or video evidence to the admin.
At any point, if the player wants to get out of the game he will be threatened and emotionally blackmailed as they hack/grab all the information about the player when he or she enrolls for the game.
The game ends with the final challenge where the player is asked to commit suicide in order to win the game.
The Blue Whale challenge game is famous with below terminologies and hashtags as well:
Alternative names for The Blue Whale challenge game:
A quiet house
A silent house
A sea
A bunch of Wales
A bunch of Whales
Wake me up at 4.20 am
In social media, various hashtags related to Blue Whale challenge game are:
blue whale
sea of whales
I'm in the game
Wake me at 4:20
F58
F57
Where can you access or download the blue whale challenge game?
No such website or app in play store or web store exists. There is no downloadable as such; it's just based on the conversation between the admin and the player. These people are members of various groups/pages on social media sites and they look for victims in such groups. Bullied, weak-hearted, depressed teenagers are an easy target for these people.
Once a victim has been trapped, they are attacked psychologically and brain washed to accept the invitation for the challenge. The moment a person accepts the game, all his/her personal details will be hacked and stored. As and when the player clears the levels, the trust factor increases which is in turn tested by giving self-harming / weird challenges.
How to find out if your child is a victim of the blue whale challenge game?
The gamers are experts in psychology and they can manipulate the teenagers to adapt for the game. E.g. they convince girls that they are fat and boys that they are losers and good for nothing.
Every time they complete a task, they are asked to self-harm/self-injure their body parts. As a parent, check for their body parts if they have cuts (esp. hands, legs, and thigh).
Is your child indulged in the continuous use of laptop/mobile (say a day or more)? Then, beware of what they are doing.
Is he or she always alone and not talking to anyone from few days but always using their laptop or mobile phones?
Check your child's mental ability. Check various apps and websites he or she uses. Look for what they search in google via browser history.
Below is a set of questionnaire/tasks likely to be given to a player. You can check if any of the following is followed/repeated by your child.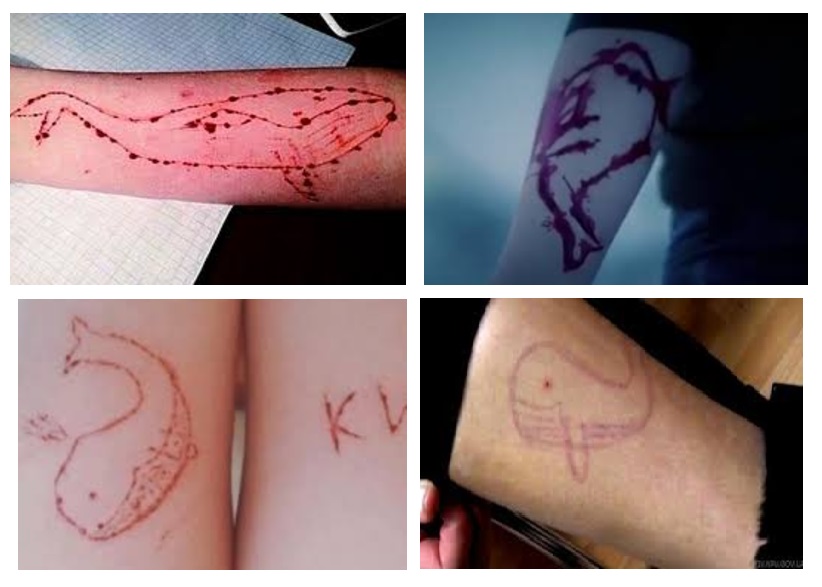 Questions likely to be asked in Blue Whale Challenges are:
 A user in a website posted the below list of tasks which were likely asked questions:
Cut / Carve with blade or glass to carve "f57" or "F57" on your hand.
Wake up at 4.20 AM and watch scary videos sent by admin.
Carve / Cut your arm with a blade / broken glass / or any sharp material.
Draw a whale on a sheet of paper, send a photo to the curator.
If you are ready to "become a whale", carve "YES" on your leg. If not, cut yourself many times (punish yourself).
The task with a cipher.
Make 'F40' or 'f40' on your hand.
Type "#i_am_whale" in VKontakte status / instagaram / any other social media profile.
You must overcome your fear.
Wake up at 4:20 a.m. and go to a roof (the higher the better)
Carve a whale on your hand with a razor.
Watch horror videos all day.
Listen to music that "they" (curators) send you.
Cut your lip or any other body parts.
Poke your hand with a needle many times.
Do something painful to yourself, make yourself sick.
Go to the highest peak of any building, stand on the edge for some time.
Stand at the edge of the bridge.
Climb up a crane or at least try to climb.
The curator checks if you are trustworthy.
Have a talk "with a whale" (with another player like you or with a curator) in Skype.
Climb to the terrace or any tall building around and sit on the edge with your legs dangling.
Another task with a cipher.
Secret task.
Have a meeting with a "whale."
The curator tells you the date of your death and you have to accept it.
Wake up at 4:20 a.m. and go to rails (visit any railroad that you can find).
Don't talk to anyone all day.
Make a vow that "you're a whale."
30-49 tasks: Every day you need to wake up at 4:20 AM, watch videos (horror/psychic/hurting) etc., listen to audio clips, sounds, music your admin sends you, self-harm by making a cut on your body, talk "to a whale."
Finally, Commit SUICIDE.
No, I don't see any such symptoms nor I think my child is into the blue whale challenge game. What next?
See:
It's likely to be true that your child is not a victim but a lot of time teenagers don't reveal anything to their parents. Sometimes, even parents don't have time for their own kids and when horrifying cases like this occur every parent panics.
Precautionary measures one can take to avoid the Blue whale challenge or any such psychological imbalance to kids:
Digital literacy: With digitalization, a whole new set of problems have come and parents need to be familiar with the impact on kids.
Both parents, as well as children, must be aware of digital media's risks along with opportunities.
A need of internet safety is important. There are lot of software available in the market which can restrict the websites accesses by you / your kids.
Understand your child's psychological moves. His habits, the way he interacts etc.
Keep a track of what your child does in the internet world. One bad connection, one greedy link, one suspicious click is more than sufficient to spoil your system with a virus attack or push your child into the bad world.
Teach your children to tell NO. I agree it's very difficult to make them open up but it's necessary. Train them not to be scared or get bullied or emotionally blackmailed by any threats.
In the blue whale challenge game, if players want to quit half way, they are threatened that their parents will be harmed or so. Lets your children know about
Speak to them about the blue whale challenge or any similar horrific things that come up in the internet world.
Interact with them, spend time with them, listen to them; children are very sensitive and one wrong parenting strategy can let the children open few bad doors.
A lot of sources around the globe report about teens committing suicide, likely to be victims of the blue whale challenge game or similar games:
Economic times stating various death that occurred due to game
Two More Suspected Cases Of Deaths Emerge From Kerala, India
According to Novaya Gazeta, Russian news channels 130 children have committed suicide in Russia alone and coincidently Almost all of them were members of the same group on the Internet. Also, the brain behind this game is arrested. However, the game has spread far beyond this and there would be a lot of such notorious minds sitting just to continue the exploitation.
Lastly:
There is still a lot of debate going on whether the blue whale challenge is the only reason for suicides or not. Irrespective of that, in the dark web world a lot of 'the blue whale challenge' may exist and the need of the hour is to build a strong bond between the parent and the child. It's better to take precautions than repenting in the future. Teachers at schools and college must make every student aware of such traits where they can easily fall prey.
Today, it's the blue whale challenge tomorrow it could be something else. But, the core point is it attacks you mentally / psychologically. Hence, one must constantly ask themselves 'Is your child depressed' and take proper measures; hence, not allow any scope for such barbaric incident to take place.
Note: This post is not related to JUMPWHERE genre. However, the article is written in public interest to create awareness.
Also, read: