Visiting restroom is a daily activity of every human beings. But depending on the places, restroom acts as different attire for most of us. If you go on a holiday, a restroom will give a pleasant, romantic feeling; similarly at an renowned restaurant. However the same at a public location or slum area would provide foul smell. Irrespective of the place, we finish our regular jobs at most of the places except for one place i.e. Office restroom!
Employees find lot of amazing reasons to spend time in office restroom. May it be just to do regular job or spend some time alone. Here are some activities what people do in the office restroom.
Top 10 activities people do at Office restroom apart from Normal job!
Make up / Dress up / Style up:
First thing when reached office; you see people running to rest room to dress up properly. Well the time might go from 5 minutes to 30 minutes on this one and then there are people who would turn the restroom into beauty parlors as well. If proper facilities are provided, people even take bath in office restroom.
Telephonic Interviews
Any experienced candidate who is going to attend interviews would have definitely thought about rest room as an optional place to attend telephonic interview. (To all the job seekers, be careful; your manager might be in the neighboring units).
Chit-Chat Corner
If your cafeteria is not nearby (you need to swipe out for that), then restroom is the best place for all the kinky plans and gossips. This is also the same place where colleagues will go and brag about their managers and work every time.
Click selfies / pictures
Shiny flooring's, a beautiful wash-basin and a perfect mirror with bright lighting; many millennials find a perfect selfie spot inside the office restroom. In-fact, for many, a day without selfie in the restroom is an incomplete day.
Try new apparels / dresses
Most of us get our online ordered products shipped to office address and there is nothing (yes; not even managers calling) that can stop the curiosity to try the product we just got and of course, the best place to try the same without anyone disturbing is 'Restroom'!
Privacy Mode
People often prefer rushing to restroom when they want to remove everyday frustration; the highest number of silent cries takes place in office restroom and sometimes people just go to restroom to spend some idle time. Sometimes, individuals also land up in the restroom to make a master plan or think about the problem they need to solve (Bathroom thinkers).
Me and My Mobile
From news to social networking sites to gaming; from scrolling top to bottom in Facebook to swiping left right on tinder; the office restroom has seen it all. People even prefer restroom to attend telephonic calls or video calls as well. Needless to say, people even involve in some kinky activities.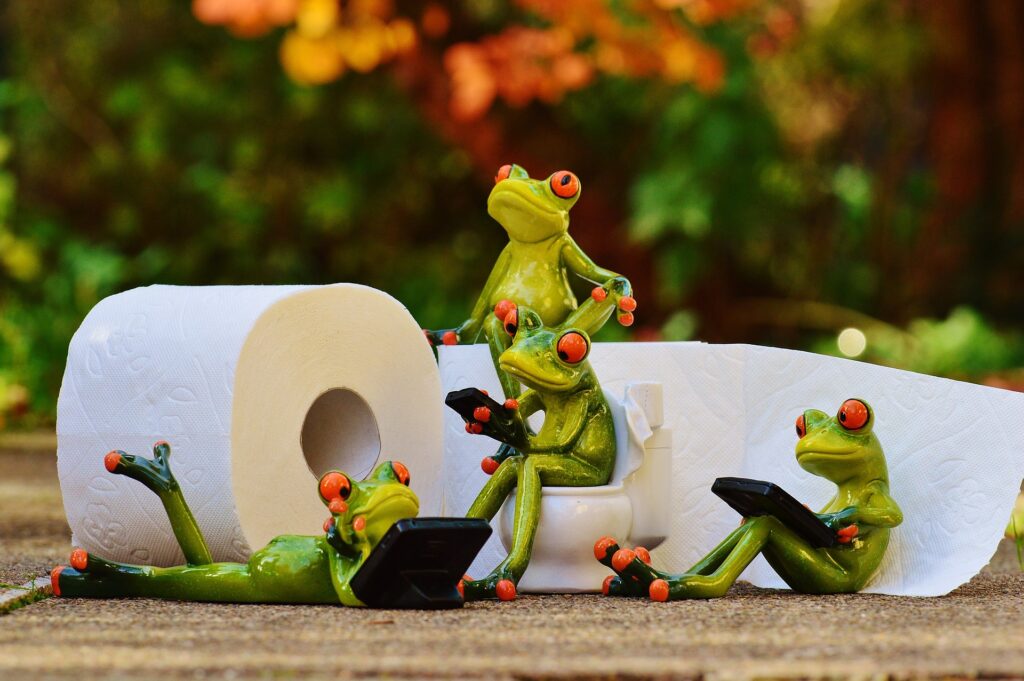 Eat / Smoke
This is a little gross but people even prefer restroom to eat or smoke in the restroom. To all the smokers; make sure there are no smoke detectors around while you do so and your restroom has enough pleasant smell to overcome your smoking smells and the eaters; thats really gross!!
Restroom Workout
Irrespective of where you go, you will definitely find people obsessed with fitness and office restroom are a good place to flex themselves. To all the people who are wondering what exercise one can do in restroom; well you can do push-ups, arm stretch, legs stretch and even squats.
Restroom cum SINK:
The least obvious thing apart from restroom job people do is clean their coffee mugs and lunch boxes. Workaholic's who don't prefer going to cafeteria for these activities make a mess at their cubicle and end up washing stuffs in the restroom. To all the people, ensure no foul smell arises in your cubicle or restrooms.
Although, there are many things what people do in the office restroom the above mentioned are the activities people usually do in office restroom. Let us know in the comments below; what are the activities you do in office restroom apart from normal job!
Also read: