Introduction
Are you from a IT/Non-IT background and want to learn programming but not sure which is the right source to get started?
there are plenty of courses available in the internet but having experience in freshers jobs and market needs, we have tailored the course based on whats needed for you to kick start your career.
After the successful execution of first batch we are back with the second batch of .NET Kick Starter Program for Freshers where you can start coding a project from scratch in less than a month.
During the program you get full access to the contents on daily basis, along with a 1-to-1 conversation with mentor and at end of the session, you will get your certification.
Refer FAQ section for doubts.
Contents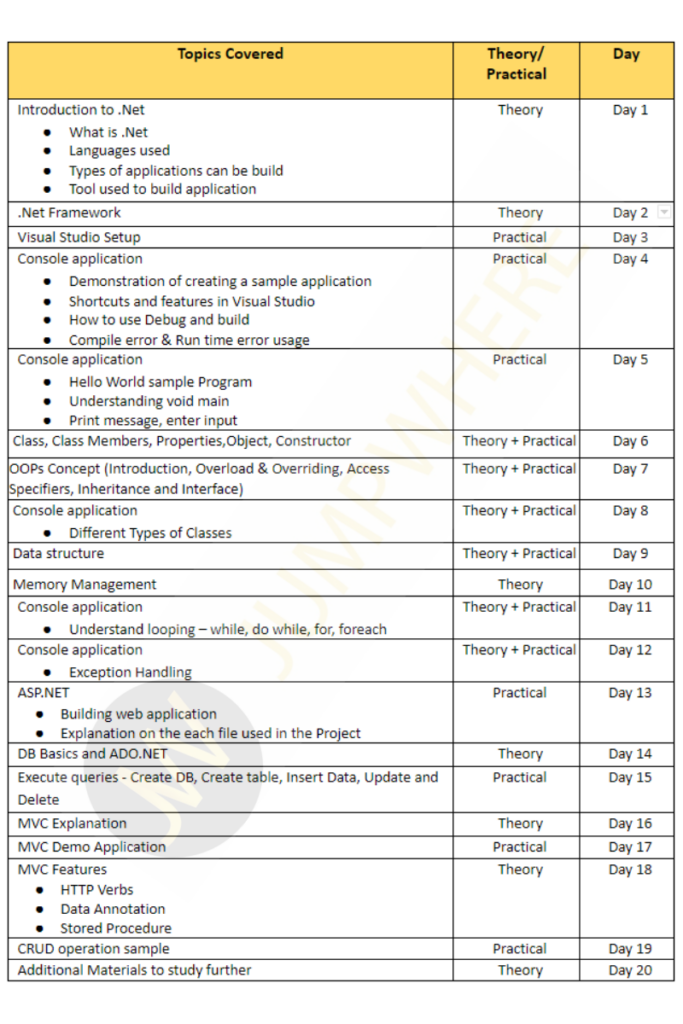 Charges
Charges:
2,000 Rupees per candidate
(We are looking for serious candidates only and if you are willing to learn we will definitely be willing to train)
How to Get Started?
Join Whatsapp group  (https://chat.whatsapp.com/DG8ev36q8tC3VvIVEHsLgP) for any further clarification and payment to get started on an immediate basis. The payment will be via Google Pay/Phonepe to the admin of the group.
Frequently Asked Questions (FAQ)
Are these live videos/live classes?
No. We have identified few topics and related videos and on daily basis we share only those necessary things in the form of video links or website links or articles or ppt.
Any pre-requisite?
Yes, you need the following:

Windows OS Laptop/Desktop
Space to install and run Visual Studio
Minimum 4-6 hours of dedication to learn
Should you install anything?
No. We will provide all the guidance
Will I get a job after this?
No this is only a kick start guidance program however after this program, your chances to crack interviews will increase.
Is the mentor dedicated?
You will have a one to one communication with a mentor for clarifying doubts.
What should be take-away?
You will be able to build simple applications and will have hands-on experience in .net MVC application development.
How to make a payment?
You can pay via Google pe or Phonepe at 9964176017 and send me a screenshot.
How long will I have access to the videos?
You will have access to the videos for 45 days (subject to extension on serious cases) but we look forward to you completing the course in 20-25 days.
When is it Starting?
You can start the program anytime you wish for but we expect dedicated efforts.
Will I get a certificate?
You will get one of the two types of certificate:

Course Completion Certificate
Course with Project Completion Certificate (This will be given only to those who execute the project after the course).
About the Trainer
The trainer is a Lead Engineer having 8+ years of experience in complete SDLC management which involves Planning, Designing, Developing, Testing implementation, and production support. Have worked both as an individual and as a team player. Also, had an onsite experience as well.
Key Skills: C#, ASP.Net, MVC, Microsoft Azure, WCF, MsSQL, Web Service, WebAPI, Agular JS, React JS
Agile methodology/Scrum Master
Possess good analytical, communication & interpersonal skills.
Deliver Presentations
Unified Modelling Language
Reports preparations
Analysis, implementation, and documentation.
Testimonials